Hiking.  It's what I do to take a break from real estate contracts and clear my mind of the hectic Northern Colorado real estate market.  Feelings of peace and happiness rejuvenate my soul when I experience the smells and sights of our beautiful Northern Colorado mountains.  There are so many places near Fort Collins to enjoy outdoor activities, but some of my favorite hikes have been in Rocky Mountain National Park.
In an effort to keep my mind at peace and my body healthy, I am making a conscious effort to hike at least twice a month.  I haven't posted all of my hikes but I do want to share a couple of recent ones in RMNP.
---
March 3, 2013   Chasm Lake hike in Rocky Mountain National Park
So my friend Mark Stiger is an avid hiker and loves the outdoors.  One day he asks me if I would like to go hiking with him.  Sure, no problem.  He suggests Chasm Lake in Rocky Mountain National Park.  This is by far one of the most beautiful places I have hiked.  It starts at the Long's Peak Trailhead on the south side of the mountain.  As we gear up for the hike, Mark notices the clouds starting to form over Long's Peak and thinks a storm might be coming.  He assures me that if the conditions become dangerous that we will turn back and head home.  Famous last words.  Over an hour into the hike the wind picks up and gusts over 70mph start to push us off our feet and slap snow and pebbles against our faces.  I ask him several times, "Do you think we should turn around?"  Na, he says.  He apparently has hiked in much worse conditions.  Armed with trek poles, windbreakers, and micro spikes, I decide to continue along with Mark, trusting him as my guide despite the not-so-great weather.  Crossing avalanche chutes, post holing several feet of snow, and taking cover from the wind behind what large boulders we could find, Mark and I eventually made it to Chasm Lake.  Nestled at the base of Long's Peak, it truly was a spectacular sight.  The round trip took us less than five hours and we appeared to be the only morons crazy enough to be on the trail that day.  Here are some photos from our hike.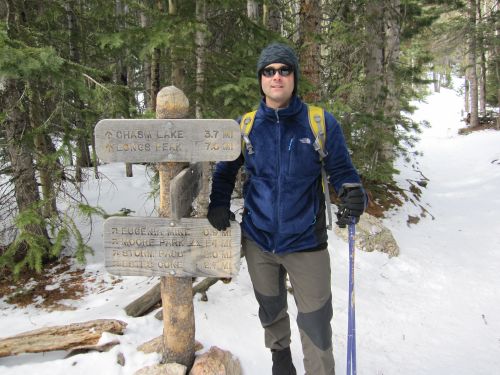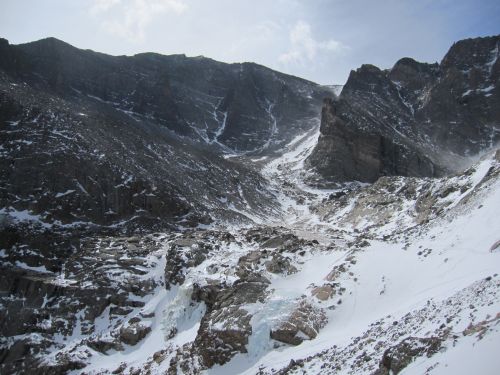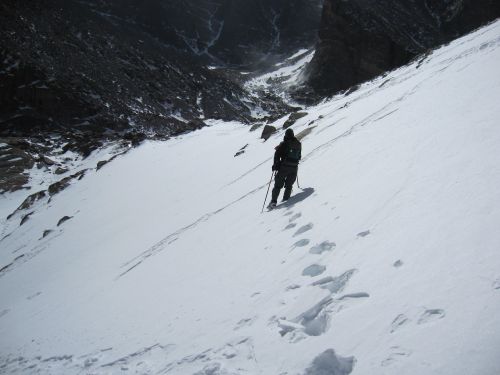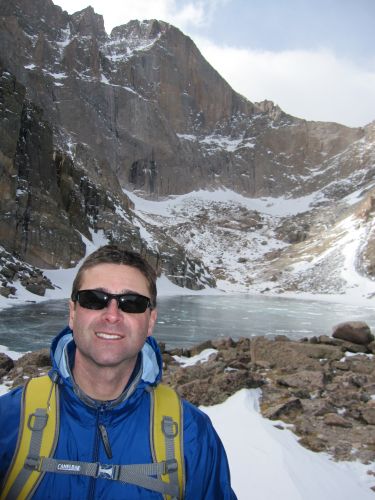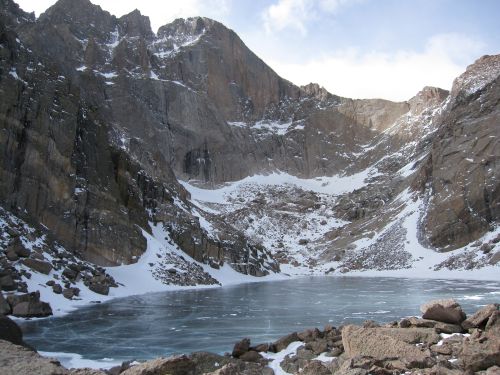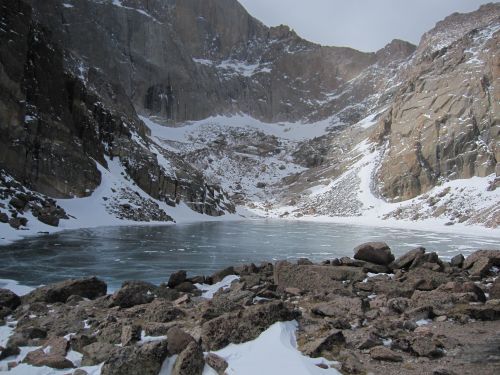 ---
April 6, 2013   Deer Mountain Hike in Rocky Mountain National Park
My wife and I own a cabin off of High Drive in Estes Park, CO.  We have a view of Deer Mountain through our dining room window, and I had wanted to hike Deer Mountain for a while.  This past weekend we took our children to our cabin to unwind in the Rocky Mountains for a couple days.  Our cabin is located about fifty yards from the Rocky Mountain National Park sign where most tourists visiting the park take their picture, so driving from our cabin to the Deer Mountain Trailhead takes less than ten minutes.  This was my son's first hike all by himself, meaning neither Mom or Dad carried him.  On the other hand, we did take turns carrying our daughter.  The views of Long's Peak were incredible.  It was a fairly easy hike and one I would recommend for a family.  We had to turn around when the north side of the trail became icy, but we were able to hike for a couple of hours and the views were fantastic nearly the whole time.  The kids were excited to see plenty of deer along the trail and the switchbacks made the elevation gain pretty easy.  Here are some photos from our hike.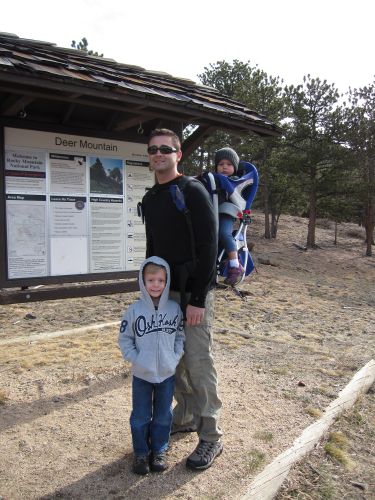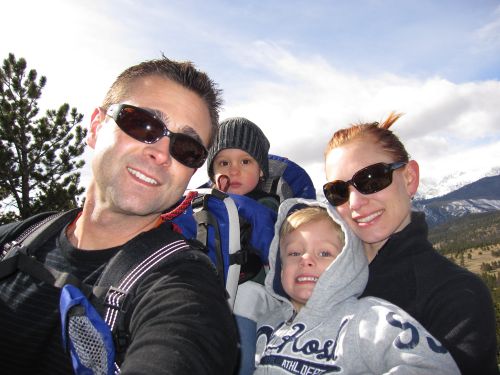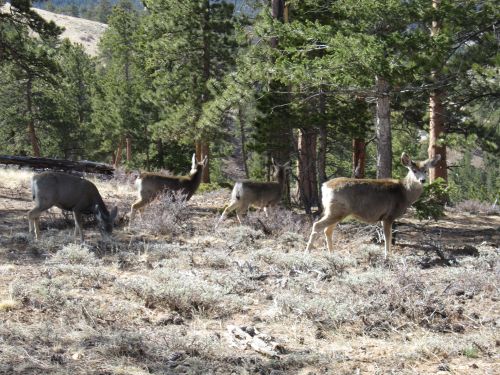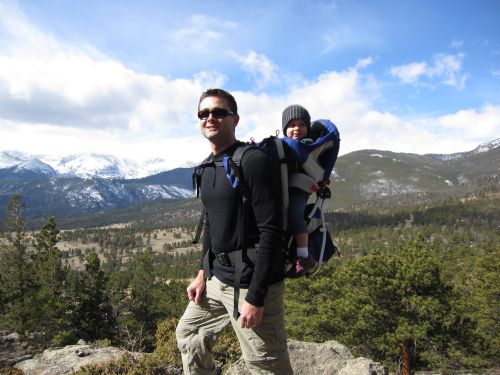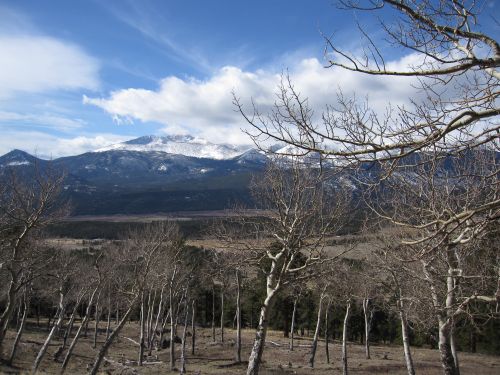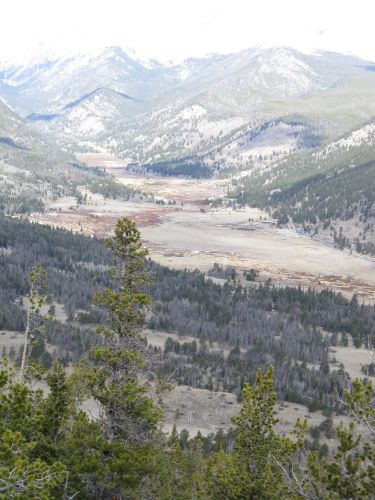 ---
For questions about Northern Colorado real estate, vacation rentals in Estes Park, or homes for sale in Fort Collins, Loveland, or Estes Park, contact Richard Jensen with Coldwell Banker Residential Brokerage.
Thanks for reading our Northern Colorado Real Estate and Lifestyle Blog!